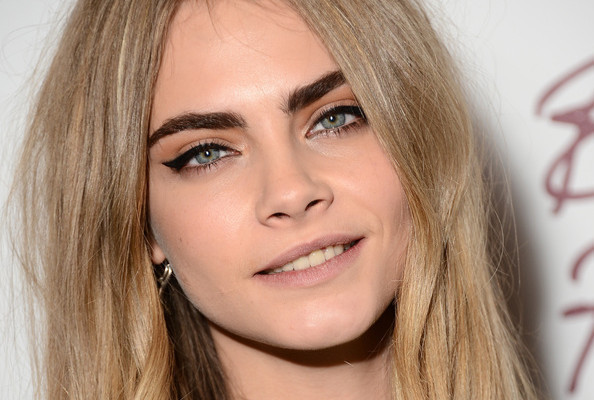 Since we are way into Brow arch March, I thought it would be a great idea to share with you some tips on how to get Cara Delevigne's statement brows! She's the 'model of the moment' and her bushy brows are always topic of conversation, you either love them or you hate them! I personally love them, having bushy eyebrows myself...
There's no need for brow envy anymore! With a few simple steps and a few product recommendations you can fake your way to thick! These products will help you achieve that power brow in no time.
Tips
The key to achieving such big brows is to tame, frame, fill and set. Before you begin to apply products to your brows you should make sure your brow arch is in the right place, to do this simply slant a pencil from the bridge of your nose up to your iris. Your brow arch should be inline with the pencil. Are your brows the right shape for your face? An eyebrow shape which does not suit you can really make a different to the way you look. A simple chart can determine which brow shape best suits the shape of your face.
Benefit - Brow Zings
If your looking for a brow kit that will work wonders, then you've found it. This brow kit includes a coloured wax, soft brow powder, two brushes and tweezers! Perfect for on the go, everything you need in one little kit to achieve those bold brows like Cara!
Laura Mercier -Brow Powder Duo
If your brows are more on the thin side, a brow powder can really give the appearance of thicker, bolder brows. This brow duo gives you two colour options so you can create the shade just right for you!
Rimmel London - Professional eyebrow pencil
If your lucky enough to have fairly thick eyebrows like Cara, Then this is the perfect pencil to fill in those sparse hairs. Keep it simple. Less is more! Don't draw them on, enhance them! The soft Kohl pencil is perfect for filling in any gaps and will make your eyebrows look fuller. The Flat brush is great to use afterwards to smooth out any harsh lines and blend in the pencil with your brows.

Benefit - Gimme Brow Gel
Bring on the brows! Benefits Gimme Brow gel is great for creating thicker, bolder looking brows and is will hold your brows in place. The gel allows you to gradually build your brows, depending on how thick you want them! Benefit Gimme Brow gel adds instant fullness and gives the appearance of thicker, dimensional brows.
M.A.C - Brow Set
Once you've achieved those bold brows like Cara finish your look by holding those power brows in place! Brush the clear gel through your brows to define and keep hem in place! The clear gel adds shine and leaves your brows looking well groomed.